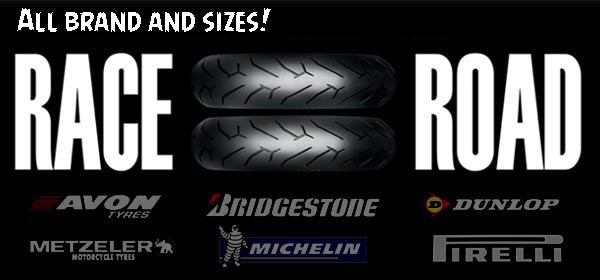 MC dæk i højeste kvalitet til lave priser! En god service, hurtig levering. Flexible betalingsbetingelser. Meget stort udvalg! Levering 1-3 MC-dæk – Danmark is 14,00€. Vores dækpriser er inklusive moms.
Motorcykeldæk adskiller sig ikke så meget fra almindelige bildæk. Normal levetid er ca fem år. Motorcykel brugervejledning indeholder flere detaljer om, hvad dæk er godkendt til hvilken model, og indeholder også yderligere oplysninger som dækkets bredde , daekkets bredde and hastighed indeks. Gode mc dæk har et godt greb, selv på våde veje, og vil hjælpe dig tage bøjninger vej sikkert.
Vi kan levere dæk i alle størrelser og typer fra Avon, Bridgestone, Continental, Dunlop, Heidenau, Metzeler, Michelin, Mitas, Maxxis, Pirelli, Shinko, Sava, Vee Rubber. Køretøjstype: Cruiser/custom, Sport, supersport, enduro, cross… Vi tilbyder udelukkende nye dæk der produceres løbende.
Hvordan bestiller jeg
I vores webshop er det nemt at lave bestillinger. Vi har billige priser og venlig betjening.
Sadan bestiller du:
Vaelg produktet
Laeg det i indkobskurven
Ga til kassen
Vaelg betalingsmade: Visa, Visa Debit, Visa Electron, MasterCard and Debit MasterCard cards, bank transfer, Paypal or Klarna
Betal altid pa forhand i webshoppen. Vores webshop har SSL kryptering, personlige oplysninger forbliver hemmelige. Personlige oplysninger behandles fortroligt. Vi saelger kun under to ar gamle daek.
Retur
Et produkt kan returneres inden for 14 dage.
For at returnere et produkt skal du forst kontakte os f.eks. pr. e-mail.
—-
Dækkets alder og DOT – mærket ved mc dæk
"DOT"-mærket – "Department of Transportation"
Dækkets produktionsdato kan læses efter "DOT"-mærket i det ovale felt. Siden år 2000 bruges der et firecifret tal, hvor de første to tal viser produktionsugen, og det tredje og fjerde tal sammen viser produktionsåret. Eksemplet viser et dæk fra uge 38 i år 2011. Alderen på motorcykeldæk bestemmes ved hjælp af DOT-nummeret. Man finder dette nummer på siden af motorcykeldækket. Se billedet.
Dæk bliver i regelen sådan udviklet og produceret, at produktegenskaberne forbliver over hele livstiden. Ethvert dæk underligger doch en aldersproces, som også opstår ved lagring . Gennem forskellige profiler, gummiblandinger og konstruktioner forløber aldersprocessen, alt efter dæk, forskellig.
Dækproducenterne tilføjer gummiblandingerne substanser, som sinker aldersprocessen. Bliver et dæk lagret fagmæssigt, beholder det også efter mange år (indtil 5 år) sit fulde ydeevne, og gælder som nyt. Vi saelger kun under to ar gamle daek.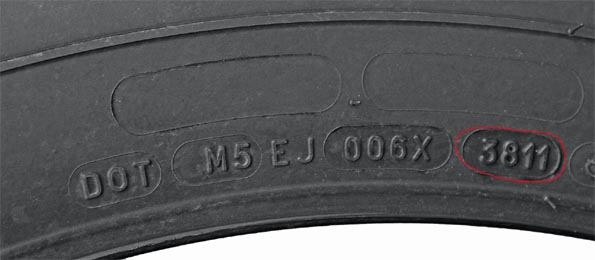 Hastighedsindeks
Hastigehdsindekset angiver den maksimale hastigehd, ved hvilken dækket kan bære en vis belastning.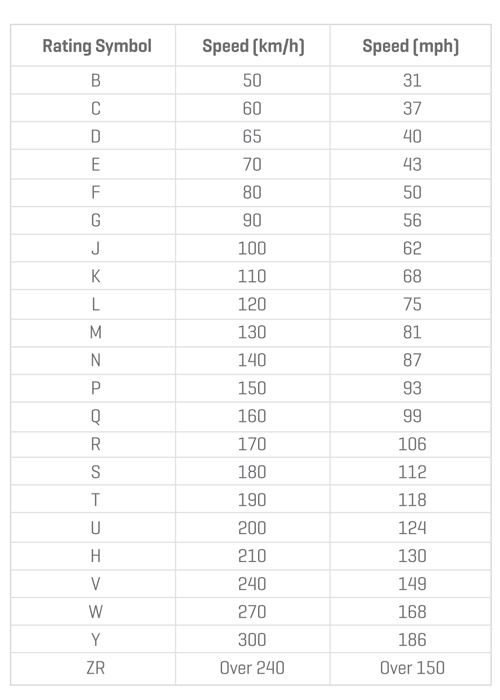 Belastningsindeks / Lastindekset
Lastindekset er en industristandard som bestemmer den maksimale servicelast på et køretøjs dæk. Eksempelvis: 160/60R-17 (69W). Lastindekset 325 kg / 720 lbs.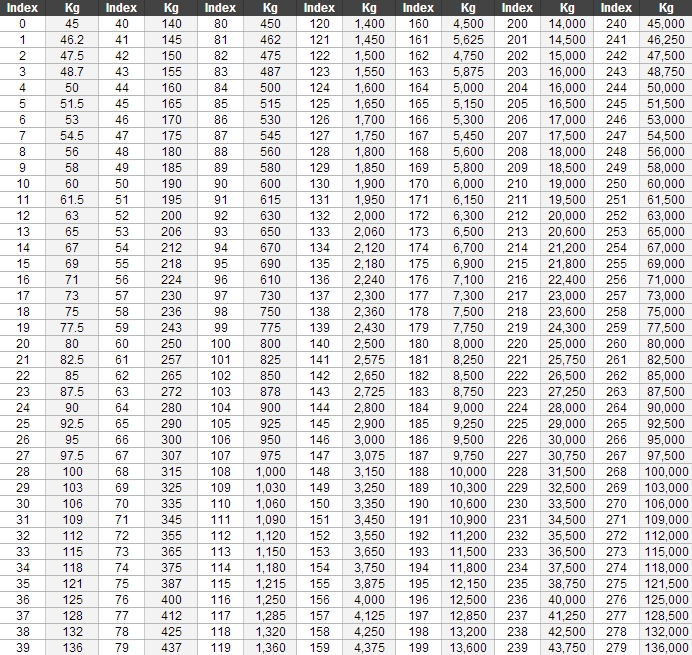 MC dæk 2019:
AVON – COBRA CHROME, BRIDGESTONE S22, BRIDGESTONE ADVENTURECROSS AX41 & AX41S & E50, CONTINENTAL TRAILATTACK 3 CONTINENTAL CONTISCOOT, DUNLOP SPORTSMART MK3, DUNLOP ROADSPORT 2, METZELER CRUISETEC,, MICHELIN ANAKEE ADVENTURE, MICHELIN POWER RS+, MICHELIN TRACKER, PIRELLI – ANGEL GT II, PIRELLI – DIABLO™ SUPERCORSA SP V3 & SC V3.
MC dæk 2018:
Metzeler Karoo Street, Dunlop SportSmart TT, Continental RoadAttack 3 CR, Bridgestone Battlax T31, Bridgestone Adventure A41, Pirelli Diablo Rosso Corsa 2, Bridgestone Battlax racing R11, Michelin Road 5, Dunlop Trailsmart MAX.
MC dæk 2017:
Avon TrekRider, Cobra (OE). Bridestone Battlecruise H50, Battlecross X10. Continental RoadAttack 3, ContiTour, ContiLegend, ContiCity, Sportsmart 2 Max. Dunlop Elite 4, GPR 300, GP RACER D212. Metzeler Sportec Street, MC360, MCE 6 Days Extreme Super Soft. Michelin Power RS, Anakee Wild. Pirelli Scorpion Rally STR, Angel Scooter, Diablo Rosso Scooter.