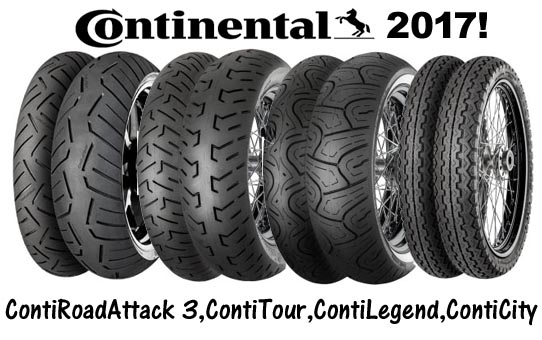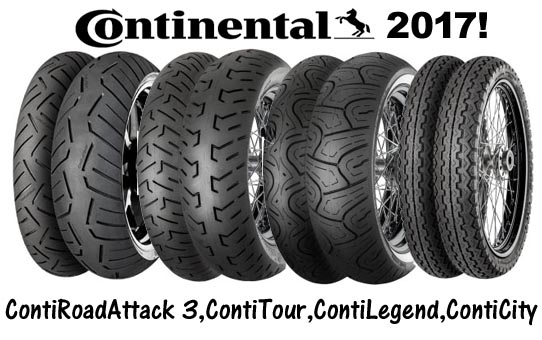 Sport touring enthusiasts can look forward to the new ContiRoadAttack 3, a further evolution of the legendary ContiRoadAttack 2 EVO that made some subtly planned progress.
TractionSkin ensures an extremely safe and short run-in time, thanks to a new mold coating technology which eliminates the need for tyre-release agents. MultiGrip equips the tyre with longer durability and optimized grip in extreme lean angles. ZeroDegree ensures reliable stability at high speed and only a low kickback thanks to a 0° steel-belt construction.
A superior wet grip is reached, thanks to RainGrip technology. A newly developed technology called EasyHandling bestows the tyre with linear handling even if gyroscopic forces are nominal, e.g. when turning or riding sharp corners. Furthermore, the tyre's accuracy has increased by a clear margin.
Fans of big fat rubber who passionately ride their touring or cruising bikes will be astonished as well. ContiTour and ContiLegend are tyres that are perfectly tailored to your cruiser, chopper or custom bike.
ContiTour demonstrates what an efficient drainage profile should look like. The pattern design is an all new design. A center tread band on the rear tire without grooves increases mileage and offers directional stability under adverse conditions. A special compound guarantees longer durability while maintaining exceptional handling.
ContiLegend and its vintage whitewall design seem to be from a different era. Despite Continental's MileagePlus technology, a multi grooved pattern design for optimal drainage and consistent performance during tyre lifetime, this new rubber roller already looks legendary.
Last but not least, the first choice for lightweight and classic motorcycles is the ContiCity. This newly developed Allround / City tire offers outstanding grip on the road due to its triangular pattern design. Cutting edge performance and durability go alongside a memorable, traditional appearance.