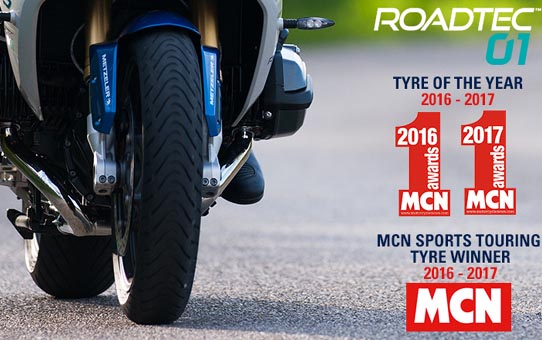 Metzeler Roadtec 01 "tyre of the year 2017"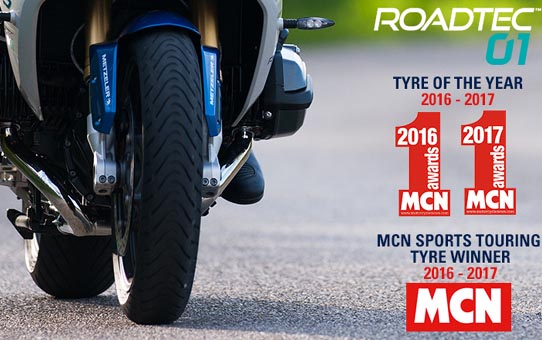 Motorcycle News has selected its 'Tyre of the Year', and again it is the Metzeler Roadtec 01. The back-to-back victory for the sport touring tyre, comments Metzeler, confirms the "excellent qualities" that the Roadtec 01 possesses.
The decision to name the Roadtec 01 the MCN Tyre of the Year is the latest in a series of honours to come its way since the tyre's launch in January 2016. In its debut year it was voted Best Sports Touring tyre by MCN and it also topped the comparative test published by German magazine Motorrad. Later in the year, the Metzeler tyre was crowned Tyre of the Year by MCN for the first time. This year, MCN repeated the sport touring tyre comparative test and the winner was again the Metzeler Roadtec 01. Two consecutive successes in this crucial market segment convinced the editorial team to also award it Tyre of the Year in 2017.
Metzeler Roadtec 01 motorcycle tyres
ROADTEC™ 01 is the latest evolution in Metzeler touring tyres, with a focus on enhancing grip on wet and low friction surfaces, an increased mileage and a high degree of adaptability to different motorcycles, riding styles and conditions. The contemporary answer to past and future needs.
INCREASED GRIP ACROSS A WIDE RANGE OF RIDING ENVIRONMENTS
The employment of completely new tread design enhancing mechanical grip coupled with compounds evolved from those of tests-winner ROADTEC™ Z8 M/O, allows for increased confidence and safety feeling while riding
EXTENDED MILEAGE & PERFORMANCE CONSISTENCY
New profile (larger and shorter contact patch) in synergy with the improved compounds ensure an extended product lifecycle
Tread grooves geometry and positioning grant long lasting performances
ENHANCED PRECISION AND RIDING COMFORT
Structural elements fine tuning and METZELER INTERACT™ technology promote adaptive behavior across a wide range of motorcycles and riding situations
120/60 ZR 17 M/C (55W) TL
120/70 ZR 17 M/C (58W) HWM TL
120/70 ZR 17 M/C (58W) TL
110/80 R 19 M/C 59V TL
120/70 ZR 19 M/C 60W TL
150/70 R 17 M/C 69V TL
160/60 ZR 17 M/C (69W) TL
170/60 ZR 17 M/C 72W TL
180/55 ZR 17 M/C (73W) HWM TL
180/55 ZR 17 M/C (73W) TL
190/50 ZR 17 M/C (73W) HWM TL
190/50 ZR 17 M/C (73W) TL
190/55 ZR 17 M/C (75W) HWM TL
190/55 ZR 17 M/C (75W) TL