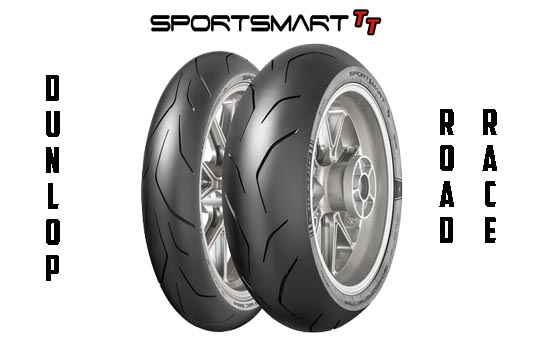 Dunlop SportSmart TT mc tyres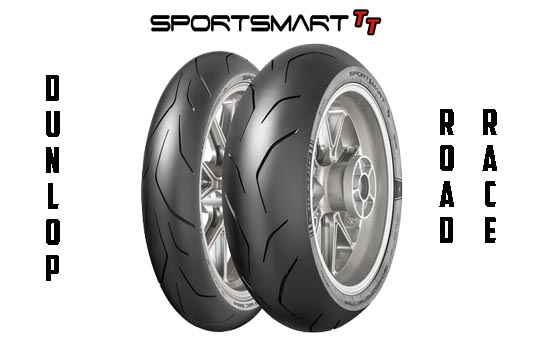 Switching road and track day tyres is a thing of the past with the new SportSmart TT. Experience state-of-the-art race-bred technology, from your favourite roads to the most testing of tracks, this sensational tyre delivers outstanding performance. Enjoy a different perspective on riding with the new SportSmart TT, the pinnacle of today's hypersport tyres.
The Dunlop SportSmart TT is a Trackday and Competition Summer tyre designed to be fitted to Motorcycle
Dunlop has announced they will launch a fourth new tyre in their hypersport portfolio in March 2018. The Dunlop SportSmart TT has been developed to meet the needs of riders with the very latest sports bikes and performance roadsters who want to use the same tyre on track and for road riding.
The name SportSmart TT derives from Dunlop's road focused SportSmart range and adds the letters TT, which refer to "Track Technology".
The launch of the SportSmart TT marks Dunlop's comeback to a segment of the market where they last competed with the renowned Qualifier RR over a decade ago.
Front mc tyres
110/70R17 54H TL SPORTSMART TT 54H TL
120/70R17 58H TL SPORTSMART TT 58H TL
120/70ZR17 (58W) TL SPORTSMART TT (58W) TL
Rear mc tyres
140/70R17 66H TL SPORTSMART TT 66H TL
150/60R17 66H TL SPORTSMART TT 66H TL
160/60R17 69H TL SPORTSMART TT 69H TL
160/60ZR17 (69W) TL SPORTSMART TT (69W) TL
180/55ZR17 (73W) SPORTSMART TT (73W) TL
190/55ZR17 (75W) TL SPORTSMART TT (75W) TL
200/55ZR17 (78W) TL SPORTSMART TT (78W) TL