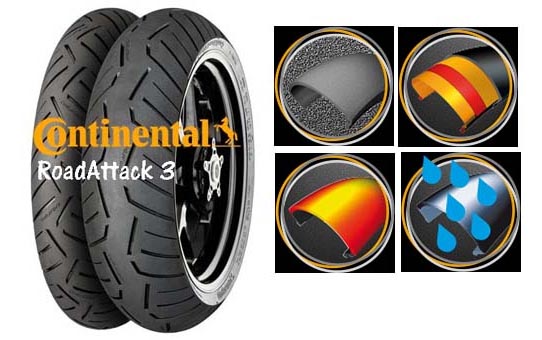 New ContiRoadAttack 3 is the test winner
The German motorcycling magazine MOTORRAD trialled six sports touring tires in sizes 120/70 ZR 17 (front) and 180/55 ZR 17 (rear) in its 12/2017 issue. The result of these tests put the newcomer from Korbach in first place.
Key evaluation criteria included handling, behavior at the limit and in wet conditions, grip during acceleration and at lean angle positions, steering precision, cornering and straight-line stability – and, at the end of the day, the ContiRoadAttack 3 came in first.
First place in MOTORRAD 12/2017
Motorcycle tyre sizes – Continental RoadAttack 3

110/70 ZR 17 54W
120/60 ZR 17 (55W)
120/70 ZR 17 (58W) +GT
100/90 R 18 56V
110/80 ZR 18 (58W)
120/70 ZR 18 (59W)
110/80 R 19 59V
120/70 ZR 19 60W
130/80 R 17 65V
150/70 R 17 69V
150/70 ZR 17 69W
160/60 ZR 17 (69W)
170/60 ZR 17 72W
170/60 ZR 17 (72W)
180/55 ZR 17 (73W) +GT
190/50 ZR 17 (73W) +GT
190/55 ZR 17 (75W) +GT
130/80 R 18 66V
160/60 ZR 18 (70W)