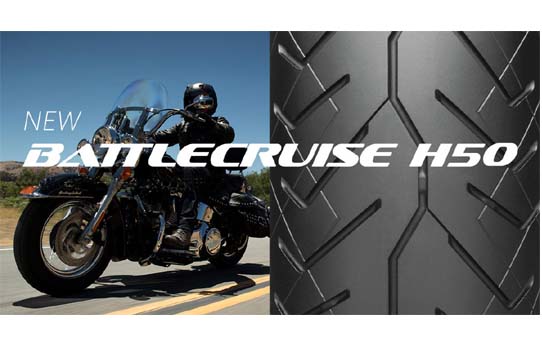 Bridgestone Battlecruise H50 – Motorcycle tyres
Bridgestone understands how you feel about your V-Twin. So we developed Battlecruise H50 with our best technologies and materials to keep your machine running the way you love it – on wet and dry.
With the new H50 on the front, your heavy bike only needs a light touch, for easy and precise cornering.
You can lay down the kilometres with the H50; our aim is to give you a tyre that lasts a lot longer than other big-name tyres.
Bridgestone has improved the vibration damping and shock absorption on the front tyre, for a smooth easy ride, even on long trips.
http://www.bridgestone.co.uk/motorcycle-tyres/battlecruise/h50/#
Front tyres
130/90B16 M/C 73H TL
100/90B19 M/C 57H TL
130/90B16 M/C 67H TL
80/90-21 M/C 54H TL
Rear tyres
150/80B16 M/C 77H TL
140/90B16 M/C 77H TL
130/90B16 M/C 73H TL
160/70B17 M/C 73V TL
We have a fantastic range of motorcycle tyres, scooter tyres, motocross tyres, trail tyres, racing tyres, ATV tyres, Innertubes and Rim Tape. Manufacturers including Avon, Bridgestone, Continental, Dunlop, Heidenau, Metzeler, Michelin, Mitas, Maxxis, Pirelli, Shinko, Sava, Vee Rubber, We deliver nationwide and most motorcycle tyres are available from stock (Germany). https://reifen66.com