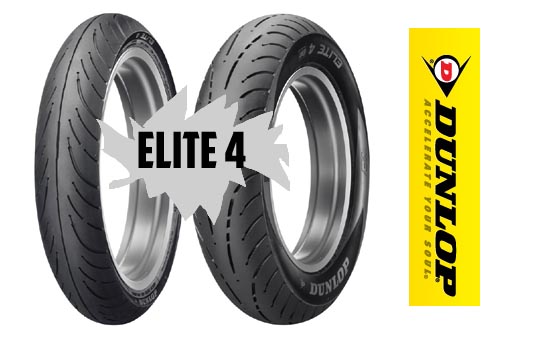 Dunlop Elite 4 cruiser/touring motorcycle tyre
The new Dunlop Elite 4 high-mileage motorcycle tyre has made its debut. Using Dunlop's proprietary MT Multi-Tread technology in the rear Elite 4 tyre, Dunlop claims improved grip in wet and dry conditions, more consistent wear, and a quieter ride.
Available in both bias and radial construction to fit different motorcycles, the Elite 4's MT technology in the rear tyre uses a tough, long-wearing compound in the center of the tyre for longer tread life, and special lateral compounds along the outside edges of the tread for cornering grip. Unique to Dunlop in the cruiser and touring tire market, Multi-Tread gives riders the best of both worlds: outstanding mileage and handling.
Dunlop Elite 4 Tire Sizes Chart
Dunlop Elite 4, bias front
130/90B16 73H
130/70-18 63H
100/90-19 57H
110/90-19 62H
80/90-21 48H
Dunlop Elite 4, bias rear
170/80B15 77H
150/80B16 77H
160/80B16 80H
Dunlop Elite 4, radial front
130/70R18 63H
Elite 4, radial rear
180/60R16 80H